All right, majority said the next Top list would be bromances. I promise the next one will be Top 10 Favorite Books.
As always, here's a few basic facts about the list:

A
bromance
is a nonromantic relationship between two guys who are incredibly close, to the point where it seems like they're a couple, but they're not.

Adhering to the definition of a bromance,
none of the people on this list are pairings I ship.
For me, being bros immediately disqualifies the option for a romance (that's also just me, which is why I didn't add it to the definition).

As always, this is my opinion. You think they'd be a good couple? Go for it! I respect your opinion as long as you're not cramming it down my throat, and I don't mean to cram my opinion down yours. I'm always willing to discuss things, though. In fact, I love it.

One bromance per fandom.

As always, my favorite is at the top, and then any after are not in a particular order.
So without further ado, here's my
Top Ten Bromances
!

Shawn and Gus

Psych
Being new to Psych, this bromance actually surprised me in how quickly I grew to love it. For those of you who don't know, Shawn Spencer and Burton Guster (aka Gus and whatever ridiculous name Shawn will introduce him by) have been best friends since they were kids. Shawn left for a while and never really had a job that stuck, until he came back to Santa Barbara, where one thing led to another and he and Gus ended up opening Psych, their psychic detective agency. (Shawn is full of shit and is not psychic; he's just incredibly perceptive. Only Gus and Shawn's dad, Henry, know this, although Lassiter thinks Shawn's lying).
So what makes these two such amazing bros?
One, they've been best friends since they were kids. Every episode starts out with a flashback to Shawn's childhood, and Gus is in them at least half the time, if not more. Their relationship frankly hasn't changed that much; Shawn still takes advantage of Gus and his abilities when he can, usually leaving Gus standing with the short end of the stick. Gus always calls him out on his shit, however, sticking with him until the bitter end. Even if Gus is scared out of his mind and tells Shawn no, Shawn knows Gus will be there anyway, supporting him and everything he does.
Shown: Damn near perfect analogy of their friendship.
Through all the shenanigans, the two really care about each other. If anything were to happen to Gus, I think Shawn would lose all connection to what he has in Santa Barbara. Whenever Gus is in danger, Shawn legitimately panics, and suddenly it isn't a game to him anymore. Sure, he's had that
infuriating stupid canon
thing with Jules the entire time, but when you're as close as Shawn and Gus are with each other, then there's nothing else that's more important.
You just really get the sense that Shawn and Gus are
best friends
. They tried to do a "team-swap" in the beginning of Season 5 of Psych, where Gus worked with Lassiter and Shawn with Juliet. It didn't work well at all
(Lassiet, be canon god dammit)
. Gus and Shawn tell each other everything, they have keys to each other's apartments, and they balance each other out really well. To me, they're just the epitome of best friends (which qualifies them as bros). Only you and your best friend can do
those little things that make you feel like total badasses
. Best friends and bros for life, and that's why Shawn and Gus are my top bromance.
Kirk, Spock, and McCoy
Star Trek: The Original Series
Okay so I lied, because this BroT3 is definitely number two on my list.
Also, I need to explain myself, because a qualifier up top was that I don't ship anyone in a bromance, and as I stated in my Top 10 OTP list, McKock is my (second favorite) OTP. (OBJECTION! You have a glaring contradiction in your argument, Danni!)
This bromance is a little different for me, because I
do
ship Spock and McCoy (so hard), but I don't ship Kirk/McCoy or Kirk/Spock. But Spock and McCoy's relationship with Kirk is so fantastic I couldn't choose just one. Plus, when they're together, you just get the sense of these best friends sticking together, no matter what happens. So, sorry for being a little hypocritical here. This is the only time the "no-romance" rule is broken.
Anyway! Onto this BroT3. What makes them so effing brotastic?
Where do I begin? McCoy and Kirk have been best friends since Starfleet Academy; while never blatantly stated, it's heavily implied that Kirk and McCoy have known each other a lot longer than Kirk and Spock have (and don't go quoting Trek 2009 at me: that's a totally different universe, remember). What makes me sad about The Original Series is that they don't really flesh out the friendship between Kirk and McCoy much; you have to pay attention to the little details, since they don't make it as blatant as Kirk and Spock's friendship. But look at these three. The picture I used was a pretty apt one:
Kirk is in the center, a balance of emotion and tactical logic and street smarts. Spock runs on complete logic, looking at things analytically. McCoy is on the opposite end of the spectrum: He runs on emotion and gut feeling. Spock and McCoy are Kirk's right and left hands, appealing to his tactical analysis as Captain Kirk, and to his emotional side as Jim. Kirk needs the two of them to keep himself focused and remind himself of who he really is. The life of a captain is hard and stressful; Kirk is responsible for every life on the Enterprise, and represents humanity to any new species they come in contact with. Despite how he can be hammy and flirty and reckless, he's also, imo, the best damn captain in Starfleet, and there will never be another like him. His friendship with Spock and McCoy reminds himself of who he is and helps him be a better captain and a better person.
Spock didn't have many friends growing up (except for his pet
sehlat
, named I-Chaya). He was ostracized due to his human blood growing up on Vulcan, and was set apart in Starfleet Academy because of his Vulcan blood (Vulcans are incredibly rare in Starfleet). He is often unsure of how to approach things and so attacks them head on, stating bluntly and honestly the logical course of action. Kirk challenges him intellectually and emotionally; he told Kirk in the episode "The Naked Time" (under influence of a virus that made a person act on their baser instincts) "When I feel friendship for you, Jim, I am ashamed." Spock sees his human feeling of friendship as a shame, yet he continues to associate with Kirk anyway. Likewise, McCoy and Spock are constantly butting heads philosophically, getting in heated debates about pretty much anything. As I said in my Top 10 OTP list, they love to grapple intellectually and both really enjoy the challenge one presents to the other.
McCoy is a man who's lost everything: He was unable to save his father from dying, even as a doctor (personally unplugged his father's life support after David McCoy begged him, only to hear the news soon after that a cure had been discovered). He has two failed marriages and a daughter, but his wife cleaned him out, and so he was forced to go to Starfleet, even though he despises space. McCoy, in short, is not a happy man. He's had a hard life, but never gives up through any of it; sometimes even he's not sure why, but he's definitely one tenacious bastard. Kirk helps McCoy loosen up a little; Bones isn't afraid to be himself around Jim, and Kirk's shenanigans piss him off in the best way (you know, when your best friend acts like an asshole but you can't help but smile even as you're shaking your head and telling them what an idiot they are). They did a great job of fleshing this out in the recent reboot movie, showing us Kirk and McCoy's bond in the first half of the movie. McCoy, in turn, helps remind Jim that even though he's a Captain, he's still only human. And I've already stated the friendship between Spock and McCoy...three times, now.
These three just work so well together, and it's hard to imagine two of them hanging out without the other one there. (Also, a friend of mine and I have a fanon that the misplaced sexual tension between Kirk and Spock is just a running joke between the three of them). Since there was a shit ton of block text in this one,
have an amusing (and oh so true) video
of the sassiest boys in space.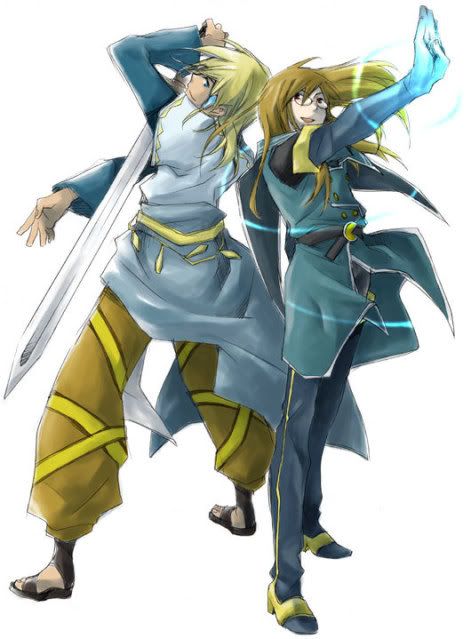 Peony and Jade
Tales of the Abyss
Oh good god I love these two. Their bromance is so fantastic, although you wouldn't guess it by the way Jade acts like he's so fed up of Peony. So what's kept them in touch?
Jade and Peony met when the two were young; due to political crap, Peony was sent to Keterburg so he would be safe, and there he met the menace of the town, Jade. Although he's not as intellectually smart as Jade or Dist, he makes up for it in common sense. Peony often sees things that Jade is blind to, and it was Peony that stopped Jade's use of fomicry (with a punch to the face). He made Jade see that the experiments were going to kill him if he wasn't careful, and finally broke through to Jade that people
care
about him.
While Dist is tenacious, he doesn't have the thickheaded, stubborn streak that Jade and Peony share, which was what made him unable to break through to Jade.
Jade has always seen Peony as interesting; Peony wasn't as smart, sure, but he was charming and was able to match Jade in his wit. Peony's not afraid to call Jade out, and he's the only person that can actually
tease
The Necromancer and get away with it. People are often so afraid of Jade, that when he's actually called out on something, he enjoys it (intellectually and personally). If someone can stand up to him in an argument and make him see their point, they've earned his respect. Peony has proven himself time and time again to be a useful asset and more importantly, a good friend. He keeps Jade grounded emotionally, since the Colonel is quite emotionally stunted, constantly reminding him that at least one person would care if anything happened to him (and sometimes, that's all Jade needs). In the meantime, Jade keeps Peony sane in a world of politics the Emperor hates. Peony has a slew of advisors, and people much higher ranking than Jade. In the end, however, Jade's opinion is the one that matters the most to the Emperor of Malkuth, and he'll more often than not take his best friend's advice over the word of his own advisors and generals. He implicitly trusts Jade, and therefore, Jade's decisions on what is best for the country of Malkuth.
There's not really a higher level then being like "Hey, I have a decision that could change the entire country, and your input is the most influential and most important." Jade knows this, and doesn't take advantage of it; he likes and respects Peony too much. These two are best friends that call each other out and match wits, and if nothing else, Peony will go down in history as the man who could actually embarrass the Necromancer.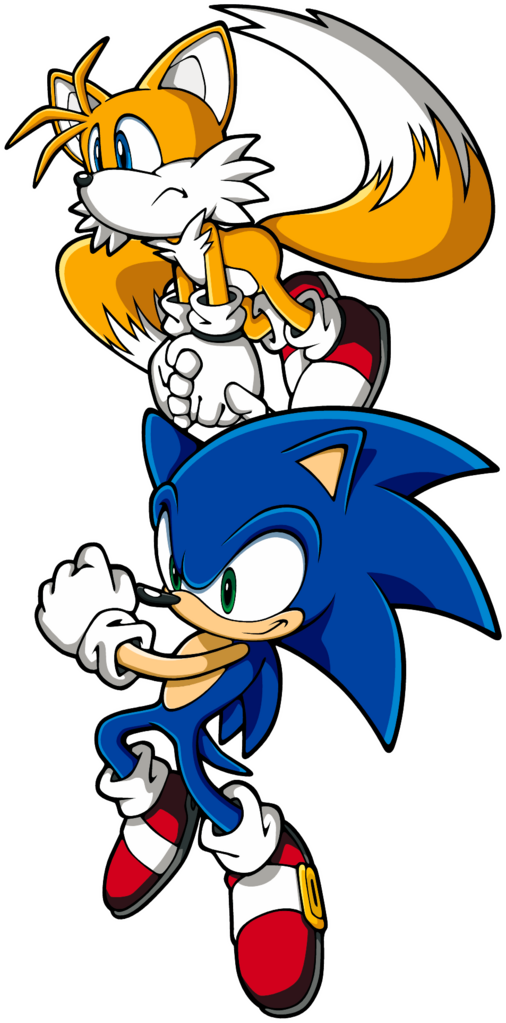 Sonic and Miles "Tails" Prower
Sonic the Hedgehog
Oh man, you guys didn't think I'd forget about these two, did you? This (sans Kirk, Spock, and McCoy) is the oldest bromance on my list. It was definitely my first.
There's a lot of different origin stories for these two since there are a
lot
of Sonic universes (SEGA, Archie, SatAM, AoStH, Fleetway, Sonic X, etc), but most of them have the same basic premise: Tails was bullied and ostracized because of his mutation, then Sonic came along. The two have been best friends ever since.
Like I've said a lot in this list (and you're gonna hear it more) these two balance each other out well. Sonic is happy go lucky, carefree, brave, and reckless. Tails is a bit meeker, shy, and a child genius. Tails manages to keep Sonic in check (most of the time), and his inventions are a godsend to Sonic. He never would've escaped Prison Island if it wasn't for Tails (and Amy, but that's another story entirely); he never could have chased Eggman's Egg Carrier to stop him if it hadn't been for Tails's plane (The Cyclone). Tails helps Sonic step back and see that charging in isn't always the best thing to do, and helps Sonic strategize for ways and finds weak points in the enemy armor. His technological skills take care of a lot of Eggman's systems and robots; they were able to hack into Eggman's base and get a fucking
spaceship
for Chrissake. Tails was part of a larger team that stopped the ARK from crashing into the Earth. His mind is an invaluable asset to Sonic, and his friendship always gives Sonic a reason to come back. Sonic's a wandering spirit, but when Tails won't travel with him, the fox knows Sonic will always be back, because they're brothers.
Sonic, in return, has done a lot of great things for Tails. As I stated before, Tails was meek, and wasn't confident in himself at all due to being bullied constantly. Sonic, instead of calling him a freak, told Tails he was unique and better for it because of his mutation. He's always encouraged Tails and told him the truth; that Tails was brilliant, that he couldn't have done it without him, that Tails was his best friend. Slowly, with Sonic's help, Tails was able to break out of his shell, and realized that he needed to stand on his own two feet. When he managed to do so (by stopping a nuclear launch and kicking Eggman's ass single-handedly, I might add), Tails was able to stand tall and be proud of himself, not just because he was recognized as a hero, but because he had also finally found self-worth. He's proud of his two tails, his technological abilities, and made the choice on his own to continue to help and support Sonic whenever his best friend needed it.
Stated in canon, I can't imagine these two as anything other than brothers. Their relationship is really heartwarming.
Kyle and Stan
South Park
I know a few of you are prooobably tilting your heads, because this show is anything but serious. It's vulgar humor (and a great show, holy crap), but it does have some legit heartwarming moments, usually between these two (before Cartman breaks in and ruins it, pfff).
Stan and Kyle are best friends, as stated repeatedly and shown even more. Whenever one is having a problem, they immediately go to the other, without a second thought. It's just second nature to them. There's an episode where Kyle's family moves to San Francisco, and Stan (long and involved story why), manages to convince everyone to buy a Hybrid so Kyle can come home. These two epitomize the friendship you had with your childhood best friend (because derp, that's exactly what they are). It reminds you of the innocence and simplicity that you miss about childhood friendships (and just how cruel and unusual they can be), and how things get a lot more complicated as you get older. I can't say much else since the show in nature is out there and completely non-serious, but these two have been through so much weird shit that they definitely deserve a spot on my list.

Nick Angel and Danny Butterman/Shaun and Ed
Hot Fuzz/Shaun of the Dead
I had to tie these two because it's Simon Pegg (Nick and Shaun) and Nick Frost (Danny and Ed), who are best friends in real life as well as on-screen. The friendships are similar, but also differ due to their contexts. Half the role is Simon and Nick just being best friends, which they already have covered, so that's another reason why these two different movies share the same slot.
In Hot Fuzz, Nick Angel is a no-nonsense, straight edge city cop thrown to a backwater town in Britain because he's literally
too efficient
and makes everyone else look bad. He's partnered with Danny Butterman, the police chief's bumbling, means-well adult son. Danny sees his job as something from the movies, and has some hero worship for Nick, who has a great reputation. Nick helps Danny be a more serious cop and helps him gain respect, while in return, Danny loosens Nick up and shows him around town. When Nick uncovers a conspiracy, he goes to Danny with the news, and together the two take on...well, I don't want to spoil (because it's absolutely hysterical and epic on so many levels). By the end of the movie, the two are fast bros.
In Shaun of the Dead, Shaun and Ed are roommates (along with..I believe his name's Peter. Either way, he's a prick. No really). Shaun is at a dead-end job at 30, and Ed is his bumbling, sloppy roommate. Shaun is told to get rid of Ed, but he absolutely refuses since the two have been best friends and roommates for a long time. Together, the two try to save their loved ones when the zompocalypse falls on them (for no reason, it just sorta happens). It's a crazy as hell ride, and *SPOILERS* Ed gets bitten and volunteers to stay behind to fend off an incoming zombie horde before he changes, giving time for Shaun and his girlfriend Liz to escape. Shaun refuses at first, but gives in when he realizes Ed is doomed to change into a zombie and honors his friend's last request, fleeing with his girlfriend. The two survive, and he keeps Ed in the backyard shed, where he visits daily to play videogames with at the end of the movie. The sense of camaraderie between these two is amazing, and it is due to the fact that Pegg and Frost are bros in real life, but you can't help but love how devoted these two best friends are to one another in a time of crisis.
These sets of bros can fend off crazy old people and zombies (same...thing?), blazing their way onto this list.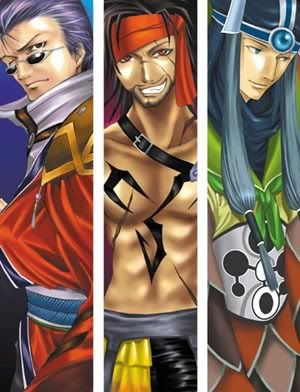 Auron, Jecht, and Braska
Final Fantasy X
Another (and the final) BroT3 makes its way onto my list! Damn it, Squeenix, couldn't you have made a game for these three instead of X-2? I mean, we know how it ends, but we knew how Crisis Core would end too and it was a fucking spectacular game anyway.
We're not given a huge insight into this BroT3, since most of it is told from Auron's perspective. You catch glimpses throughout the game when you find spheres Jecht left behind, showing the progress of Braska's Pilgrimage. What you do see, however, is fantastic; the three develop a steady friendship (even Auron and Jecht, who were at each others throats at first), which is shattered by Spira's cruelty and Braska's fate when he chose to defeat Sin (and Jecht chose to sacrifice himself to become Braska's aeon, and therefore the next Sin).
Auron was so infuriated and crushed at their deaths that he went to take on a spirit that was thousands of years old, only to get himself killed in the process. That
still
didn't stop him, since he remained Unsent and traveled to the imaginary Zanarkand to look after Tidus, then brought him to Spira to look after Yuna, just like he had promised. And
then
, to top that all off, he helps Yuna and her Guardians topple Sin for good. What a hell of a way to honor your two best friends, Auron. *salutes*
Really, this is a bromance that's best seen and not really discussed, since we don't get a huge glimpse into their dynamic or their journey (which I really, really,
really
wish we did). So
give it a look-see
.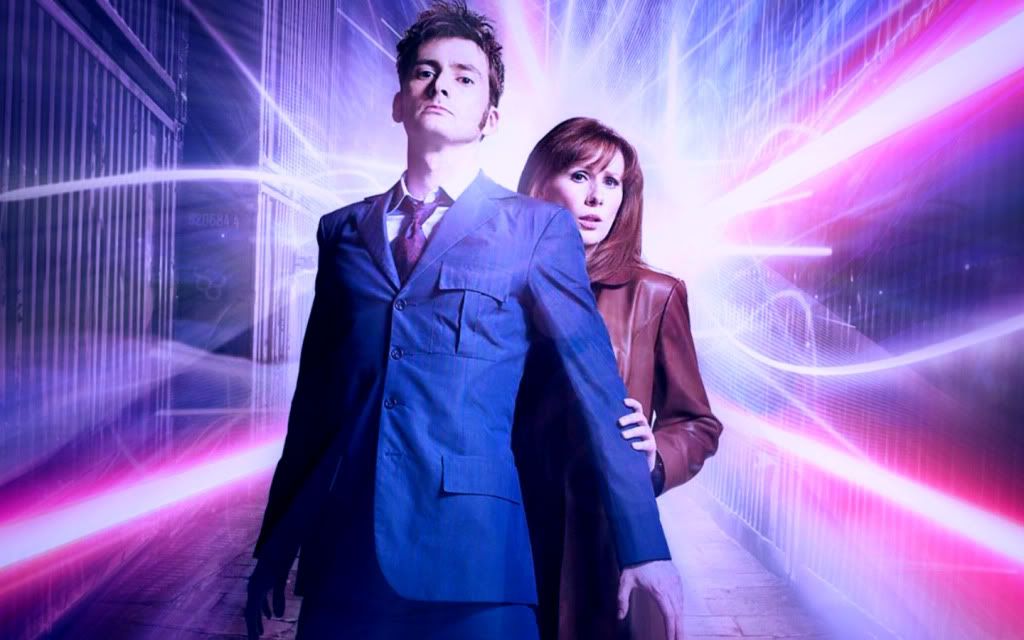 The Tenth Doctor and Donna Noble
Doctor Who
All right, backing up again; I know I said a bromance consisted between two guys, and Donna is obviously a chick. There are a few exceptions to every rule, however, and these two are it for the "man" qualification (or, Donna, anyway). The Doctor and Donna are brotastic in every way possible.
Donna believed herself to be a woman of no consequence, bored with her life and frustrated that she couldn't get anything out of it like she wanted to. She felt like there was so much potential, but she had no idea how she could improve herself or her life, and was resigned to live it out as a lonely temp who didn't have any luck in love.
Then the TARDIS accidentally abducted her.
Donna and Ten met again much later (as their first fiasco was originally just a one-time only thing), and this time Donna had been waiting for him. Ever since he left, she had decided that she should have taken him up on his offer, and thought that traveling with him was the thing she was looking for. Turns out, it was. Donna learned to have more confidence in herself (since she kinda did turn out to be the most important person in the universe), and that every life, no matter how seemingly insignificant, is important and can change absolutely everything. (I highly recommend the episode "Turn Left". It's fucking bone-chilling in that aspect).
When she first met him (right after he lost Rose), Donna told the Doctor that he needed someone to stop him, or else he'd turn into a cruel man. After Martha said goodbye to Ten, Donna notes that the Time Lord is more merciful and caring.
Donna is
incredibly
different than the Doctor's previous two companions. Rose and the Doctor were (canon) in love with each other. Martha was in love with the Doctor
"in love" my ass, DIAF, Martha
. When Donna asks to go with Ten the second time they meet, he is very,
very
hesitant at first, telling her that he doesn't want things to get out of hand. Martha's feelings for him were too much to handle, considering he was trying to get over losing Rose, the first Companion he'd loved
and Martha was being a demanding bitch--okay I'm sorry, I'll stop
. Donna honestly told him the idea had never crossed her mind, and not only was the Doctor relieved, but he was excited at the fact that he had a genuine friend to travel with again.
What makes these two work is that Donna doesn't
expect
anything from Ten. He and Rose were in love, and Martha wanted his affection, but Donna just wants to travel with him and help him in any way she can. She's never afraid to call him out when she thinks he's being rude or cruel, and the two often have heated philosophical debates. Ten genuinely cares about Donna, but as his best friend, which she undoubtedly is. Although he loves every one of his Companions (some romantically, some not), Donna is, in my opinion, the best of the Companions of the New Who series (I like Amy a lot, but I feel like she didn't have much effect on Eleven, and while I ship Doctor/Rose, I do think Donna is the better Companion of the two. Just...don't get me started on Martha).
Heartwarming and hilarious
, there is no way I couldn't put these two on my list.
Micheal Westin and Sam Axe
Burn Notice
BRUCE MOTHERFUCKING CAMPBELL, YEAH.
...now that I've gotten that out of the way.
These two are fucking great. Micheal's a burned spy for the CIA, and Sam is a retired FBI Agent. Obviously, the CIA and FBI aren't the best of friends, but Mike and Sam have worked jobs together in the past, and is the only other person Micheal trusts (besides Fiona) to help him. Sam has contacts out the wazoo, and is laid back and suave, whereas Micheal is focused and determined to get his job back. Sam, for the longest time, held off the FBI when he was ordered to keep tabs on Micheal, feeding them false information and eventually helping him squirm out of their grasp. When Sam was kidnapped and being interrogated, Micheal and Fi devised a near-suicidal plan to get him back, and succeeded, while Sam had resigned himself to death rather than betray Mike. These two are completely devoted to Mike's cause, and Sam is willing to do whatever it takes to help Micheal; Mike, in turn, recognizes this and helps Sam with anything he needs. Determined and cunning, this is one incredibly dangerous, incredibly deadly duo. Both are trained fighters with the resources and knowledge to get damn near anything they need done. Their bromance is one built on trust, and it shines through (with every near death experience and every explosion).
Yusuke Urameshi and Kazuma Kuwabara
Yu Yu Hakusho
Awww, yeah. I couldn't forget my favorite anime Of All Time. These two were the second bromance I'd invested in. Why didn't I put up Kurama and Hiei or all four of the boys, you might ask? One: I'm on the fence on shipping Kurama/Hiei, and I decided to focus on Yusuke and Kuwabara because Kurama and Hiei are the most popular characters (for good reason). I feel like Yusuke and Kuwabara are really underappreciated.
These two are the epitome of best friends that are also rivals. It started out with street fights, and after Yusuke died and returned as Earth's Spirit Detective, escalated to helping (and hindering) Yusuke's cases. Kuwabara's spiritual sense came in handy, and he accompanied Yusuke on his cases from thereon out, gaining abilities of his own. You can really see the two grow closer; they'd gotten a weird understanding of each other every time Yusuke had crammed Kuwabara's face into the pavement. Yusuke respected Kazuma because he always came back for more and dared to challenge him again and again, while most people didn't. While Yusuke could easily kick Kuwabara's ass, he never turned him down, not once, because he admired Kuwabara's determination. Kuwabara, on the other hand, was determined to knock Yusuke down a few pegs, and ended up admiring and respecting him instead, getting a thrill every time the two fought.
As they worked together on cases, you can see their friendship develop, and Kuwabara is oftentimes used as bait for Yusuke (and, actually, vise versa).
There are two clips I'll show you guys that really epitomize the friendship (both scenes are absolutely
fantastic
, by the by).
These clips both contain spoilers; if you don't want anything spoiled, don't click!
The
first clip
is from Season 3, where the series was still good, but started to get weird. Long story short, Yusuke is going to die to help Kuwabara unleash a power he has locked away, which is the inverse of what Kuwabara did for Yusuke (in a clip I'm going to show you next). This scene gives me
chills
every time. The music, the chosen memories, Kuwabara's heart breaking as he tries so hard to get out of an unbreakable prison to save his friend just in time...and fails.
The better scene, actually, is in Season 2, in
this clip
. Kuwabara decides to sacrifice himself for Yusuke to unlock his full potential, and it's here you really realize how much the two mean to each other. Yusuke and Kuwabara have never really had a true best friend, and for Yusuke to lose first his teacher (who was like a mother to him) and then his absolute best friend...it's a pivotal moment for him and his character, where you can visibly see something shift in his psyche as he finally starts to
get it
. These two have had the biggest influence on each other by far, and the lengths the two go for each other show that it is possible to die for your best friend because they
are
your best friend. Last, but most certainly not least, these two wrap up my list.
But wait! There's moar!
Yup, it's
Honorable Mentions
!
Batman and Robin

<-- click to see deviation

&

Church and Tucker
from
Red vs Blue
.
And that wraps up (for reals this time) my
Top Ten Bromances
! Hope you enjoyed, and feel free to discuss!